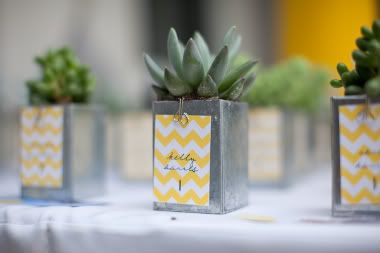 We've all seen cheesy wedding favors at one time or another. When we got engaged, my fiance and I decided we would either cut our costs by skipping favors altogether, or do something practical. It was something like 90 degrees during our ceremony and we chose sandalwood fans as our favors. Not only were they 75 cents each, they were a hit with our guests (men too!) and made for a worthwhile investment.
If you're not heavily into flowers or want to do something modern/minimalistic, you can go for succulents (cactus) or "lucky" bamboo which can serve as your center pieces, favors and seating placement. Don't get me wrong, the mints in a tin that say "mint-to-be" are cute, the candied-apples and candy buffets are sweet, but please don't make your guests play a "win the centerpiece game" or send us home with a sachet of potpourri or a little porcelain figurine that's just gonna sit in your mom's curio cabinet and collect dust.

Remember, favors are an "extra", not a requirement. Don't stress on it too much if you're trying to keep a tight budget. As a guest, I don't think I'd lose any sleep over not being offered any keepsakes. After all, we're here to support the bride and groom on their day and the best keepsake of all are the memories... priceless!